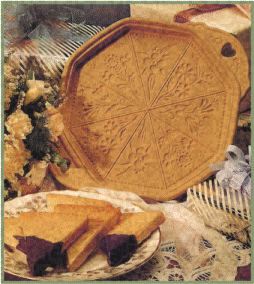 Shortbread is so easy to make, and so utterly delicious. The simplicity of the butter, sugar, flour recipe can't, in my opinion, be beat. To make yours come out perfectly every time, there are just a few simple directives to follow:
Bake the shortbread in the lower third of your oven.
To make sure that your shortbread releases from the pan cleanly, be sure it is completely cooked in the middle before you remove the pan from the oven. Directions for shortbread baked on a cookie sheet often tell you to cook the shortbread only until the top of the cookies just barely begin to color. This is not the case with shortbread made in one of the Brown Bag Cookie Art Shortbread Pans.
Since you will be cooking your shortbread in the lower third of the oven, you will get some top browning as the cookie bakes. The surface of the shortbread should be a toasty light brown when it is cooked. It should never appear raw or slightly opaque in the middle. If it is under-baked in the middle, it will probably stick in the pan when you go to unmold it.
Be sure to let the shortbread cool in the pan for 10 minutes before you flip the pan over to unmold it. This gives the delicate cookie a chance to firm up a bit. After cooling for 10 minutes, hold the pan parallel to and 1" above a wooden or plastic cutting board, face down, and unceremoniously drop it. This jars the shortbread, and it drops right out of the pan.
Slice the shortbread into serving pieces using a thin, sharp knife, while it is still hot. If you wait until it cools, it will become flakey and too fragile to cut cleanly.