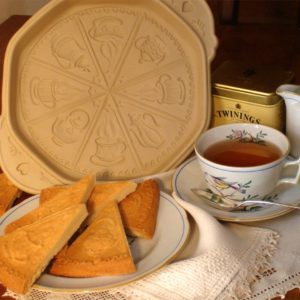 Americans have developed a passion for shortbread. Everywhere you look there are magazine and newspaper articles, special recipes in cooking magazines, and Scottish Festivals that feature contests to determine the best traditional and the best modern variation of this time honored treat.
And it is no wonder. Shortbread is delicious, flaky, delicate, sophisticated, and when made in a Brown Bag Shortbread Pan, perfectly beautiful. Our decorative pans are easy to use (you bake the shortbread right in them) and produce the best shortbread ever.
All Brown Bag Shortbread Pans are made in America.
Celtic Triskele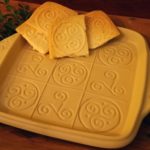 The Triskele is a well known Celtic symbol formed of a triple spiral. It is found in many cultures' art – Carved in stone, hammered in gold, and painted on pottery. Newgrange Ireland has stone Triskele cavings dating to 3200 BC.
Easter Bunny Eggs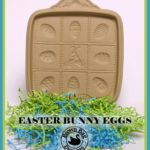 Celebrate Easter and Spring with our Easter Bunny and exquisitley decorated Easter Eggs.
Yuletide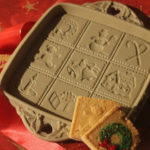 This delightful Christmas Shortbread Pan brings promise of treats in all of the little gifts offered on each cookie – Candy Canes, Teddy Bears, beribboned packages, Christmas bells; Sugarplums all.
Rose Window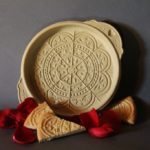 Our Rose Window Shortbread Pan was inspired by the lovely geometric windows of Gothic cathedrals in France. Each section is a beautiful petal, the whole, an intricate blossom.
American Butter Art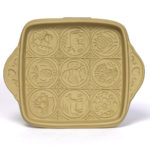 In the early years of our country, farm wives decorated their home-made butter by stamping it with carved wooden images. This shortbread pan reinterprets nine of these antiques designs to decorate shortbread – the best butter cookie of all.
Carousel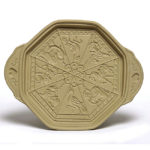 Inspired by antique carved carousel animals from the turn of the 19th century, our new Carousel Shortbread Pan depicts four different animals, saddled up and ready to prance into your dreams. There are Horses, Lions, Elephants, and a fanciful giant Bird, each hand carved, each individual. Available exclusively at: King Arthur Flour
Celtic Spring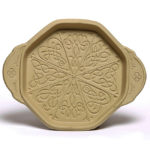 A pretty shortbread pan that bakes up 8 heart-shaped cookies. Each cookie is decorated with a different Meadow Flower.
Thistles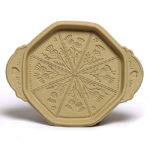 What could be more appropriate than traditional Scotch Thistles for homemade shortbread? This pan makes eight buttery triangular pieces – each decorated with a thistle, butterflies and bees.
Celtic Knotwork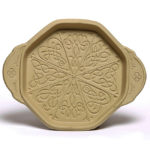 Intricate knotwork, inspired by the famous Book of Kells, graces the segments of this shortbread pan. There are four different designs, two of each pattern.
British Isles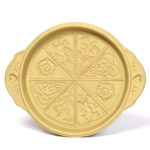 Scotch Thistles, Irish Celtic Knotwork, a Tudor Rose and a Welsh Dragon decorate the segments of this very special shortbread pan.
Irish Lace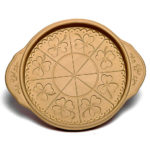 New for 2010 – Make delicate "Petticoat Tails" of buttery shortbread… delicious, elegant, easy as can be.
Flowers and Berries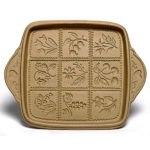 Inspired by an early 20th century butter plaque, this pan makes 9 pieces of shortbread decorated with different flowers or fruits.
Wildflowers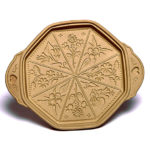 Unusual octagonal pan makes 8 triangular pieces of shortbread. 2 each of 4 stylized floral designs.
Alpine Flowers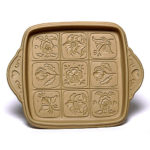 Stylized flowers inspired by Alpine folk art decorate the 9 segments of this square shortbread pan.
Tea Time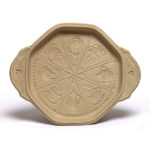 Four fanciful teapots and teacups celebrate the very civilized tradition of afternoon tea and cookies.
Snowflakes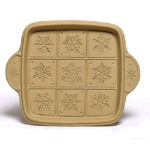 Delicate snowflakes decorate each segment of this square shortbread pan. You can "paint" the images with a little egg white and powdered sugar wash, then dust the snowflakes with a little coarse sugar for added sparkle.
Norwegian Woods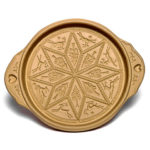 New for 2010 – Each pan bakes 16 delectable shortbreads; 8 small diamond shaped pieces decorated with a pine tree and 8 triangular pieces, each with a tiny reindeer running and leaping.